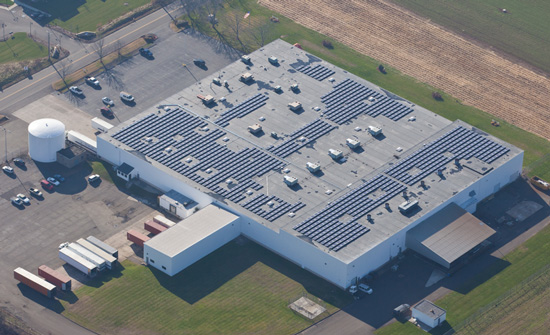 GUILFORD, CT — Independence Solar and its installation partner, Pat Munger Construction Company, today announced the completion of a 300 kW rooftop solar array for The Safety Zone, a Guildford, CT manufacturer and distributor of gloves and specialty protective equipment now in its fourth decade of operations.
One of the first solar projects to be brought online under Connecticut's innovative ZREC (Zero Emissions Renewable Energy Certificate) program, the Independence Solar team helped The Safety Zone secure a 15-yr ZREC contract with regional utility Connecticut Light & Power (CL&P) to take advantage of clean energy incentives made possible by the state's progressive energy reform legislation passed in 2011.
"Our new PV system allows us to hedge against high electricity costs, enhance our overall bottom line, and showcase our company's commitment to environmental responsibility," shared Lon Seidman, a co-owner of the family run business.
He added, "When you take on a complex project of this scope you need a knowledgeable, reliable partner and Independence Solar was exactly that every step of the way."
The roof-mounted system, comprised of 1,248 solar PV panels, is expected to supply 100% of the electricity used by the 128,000 square foot distribution facility annually. All major components of the system were sourced from US factories, including the solar panels (Oregon), racking system (Wisconsin), and inverter (Massachusetts).
Independence Solar Vice President James Schwartz added, "The Safety Zone has remained a leader in its field for more than 30 years by making sound business decisions based on economic returns and long-term thinking. This solar system aligns perfectly with both objectives. It has been a pleasure working with such an innovative and forward-thinking company."
Independence Solar called on their highly respected partner, Pat Munger Construction Company, to install the system. Based in Branford, CT, Munger is one of the region's leading construction companies, providing high quality building services to businesses and municipal customers since 1968. Munger employed experienced, local labor to ensure the construction of the solar system was performed to the highest standards.
About The Safety Zone
The Safety Zone, established in 1973, is one of the leading U.S. suppliers of gloves and other protection equipment and products. Praised for their commitment to exceptional customer service, The Safety Zone furnishes their customers in industrial manufacturing, food service, janitorial services, construction, health care and beauty products with the tools they need to properly and affordably protect their employees and work environments.
About Independence Solar
Independence Solar (www.independencesolar.com) is a turnkey installer of commercial solar energy. Since 2007, the team has developed and built over $200 million of solar projects, including the largest rooftop solar array (9 MW) in North America at the Gloucester Marine Terminal in NJ. Independence Solar forges long-term partnerships to maximize returns on their customers' solar energy investments.
For more information, contact:
Carrie Gallagher
Independence Solar
c/o Lovable Marketing